We live in an era of unprecedented connectivity. Business continuity and a host of essential services are dependent on undisrupted connectivity.
Cybersecurity is now a priority for businesses and institutions providing essential services. But the threat of a major cyber attack that takes down vital communication links still looms large.
Every 39 seconds, a computer with internet access is attacked by hackers. That means we face cyber threats at a near-constant rate.
The most crucial step in keeping one step ahead of cyber threat actors is to stay informed and maintain constant vigilance on emerging threats. However, the cyber threat landscape is fluid and dynamic and requires continuous monitoring.
Cyber threat maps give us the power to visualize these threats as they emerge, tracking their origins, observing their targets, and understanding their techniques.
But cyber threat maps on their own are not the answer. They are limited in context and must be combined with historical data and advanced security tools to safeguard against cyber threats.
In this article, we discuss how live cyber threat maps can be used as cyber threat intelligence tools. We'll also review 8 cyber threat maps that can serve as a window into the global threat landscape.
Understanding the Value of Cyber Threat Maps
A picture speaks more than a hundred words.
Let's admit it. Stunning graphic visualizations of real-time (or near real-time) events can be mesmerizing (when done well!). That's part of the allure of cyber threat maps.
Watching a dynamic animation of the globe with colorful dots and lines indicating locations where there may be a cyber attack—or threat—in action is awe-inspiring. Try it with Kaspersky—one of the most popular cyber threat maps, discussed in more detail below.
Benefits of cyber threat maps
Cyber threat maps, also known as cyber attack maps, are real-time visual representations of cyber attacks happening around the world.
There are several tactical benefits to using threat maps, and you may get valuable insights into your threat landscape—if you know what to look for in these threat maps.
Understand the global threat landscape:

Cyber threat maps are almost like real-time hacking maps! They give you an eye-in-the-sky view of active and emerging cyber threats as they happen across the world. They help organizations understand the broader context of attacks. The visualizations help security teams quickly grasp the intensity or frequency of events in the evolving threat landscape without going through reams of data and allow them to respond quickly where required. This is vital for addressing zero-day vulnerabilities and identifying the emergence of new attack techniques.
Identify current cyber attack patterns:

A visual snapshot of real-time or near-real-time attacks helps security teams observe attack patterns that might not be immediately apparent from their own network logs. Analyzing the data may reveal patterns that shed light on the tactics, techniques, and procedures (TTPs) currently used by

threat actors. It gives security teams insights into the types of attacks targeting specific regions, industries, or technologies and allows for more accurate predictions of future threats.
Raise awareness & collaboration for threat intelligence:

An ancillary benefit of cyber threat maps is that they can raise cybersecurity awareness and drive home the importance and urgency of proactive protection against cyber threats. Threat maps also double up as an excellent training aid as the visual representation makes a formidable topic more approachable and relatable. It's easy to share

threat intelligence

among security teams and extended cybersecurity groups to start a conversation about emerging threats in the community and exchange knowledge of how to deal with them. It can help elicit a collective response and collaboration that strengthens security measures.
Effective Utilization of Cyber Threat Maps
Here are practical tips on how to make the most of these maps and interpret their data accurately:
Regularly check cyber threat maps to

stay up-to-date

with the latest threat landscape. You can set alerts or automated notifications to receive updates about emerging or current threats.
Research specific attack indicators or malware names to

gain deeper insights

into how they occur.
Compare threat map data with your organization's internal security logs and incident reports—an overlap between threat data and internal incidents may

reveal potential vulnerabilities.
Identify threats within your industry, territory or technology stacks similar to yours and use the information to

prioritize your defense strategy

to those.
Combine threat map data with other threat intelligence sources, such as industry reports and open-source threat feeds, to develop a holistic understanding of the threat landscape for

better decision-making.
Educate your security team

about various attack vectors and tactics depicted on threat maps.
Threat maps are a valuable source of threat intelligence, but if you're looking for emerging attack information, also check out RedLegg's Critical Security Bulletin.
Best Cyber Threat Maps
We've put together 8 of the best cyber threat maps you can use to expand your threat intelligence arsenal.
1. Kaspersky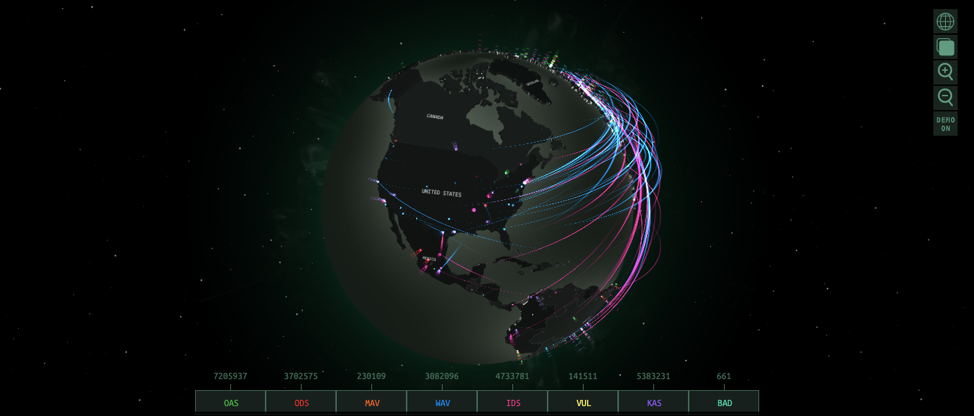 One of the most popular threat maps, the Kaspersky Cyberthreat Real-Time Map, shows attacks around the globe with options to rotate and zoom on a specific country to see nation-specific threat data.
Kaspersky uses multiple data sources, such as on-access scans, on-demand scans, botnet activity detection, and mail anti-virus reports.
How It Helps:
Monitors live cyber threats to enhance your awareness of the cyber threat landscape.
Identifies patterns and trends in attacks, facilitating early threat detection.
Reveals useful insights from historical data sets, such as the top threat types and the most infected countries.
2. Fortinet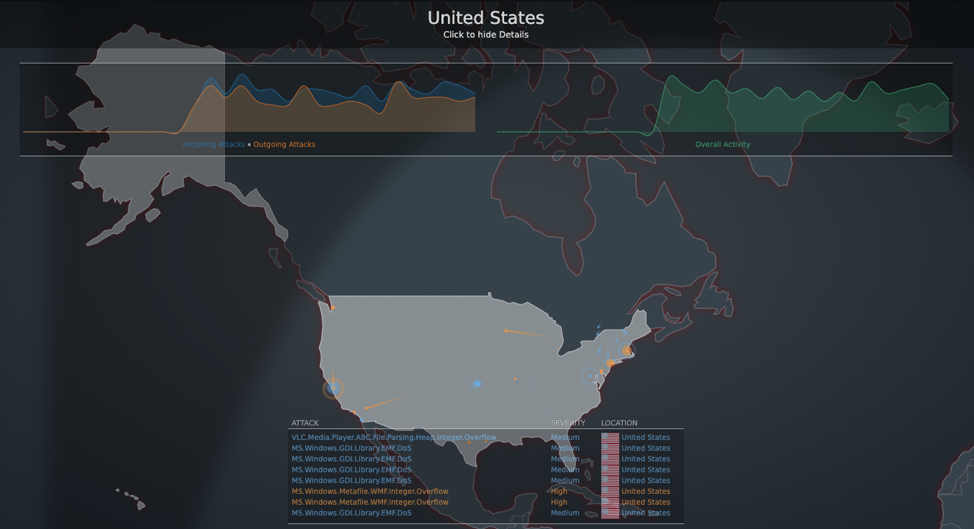 Fortinet's threat map solution is very similar to (the very-popular but now-defunct) Norse threat map. Along with the visuals, the map shows a log of threat types, their severity, and their target locations.
How It Helps:
Displays country-specific details in the form of a chart.
Allows monitoring of attacks targeting specific regions or industries.
Fortinet customers get their own customized threat map.
Helps in making informed decisions for threat mitigation and resource allocation.
3. Check Point Software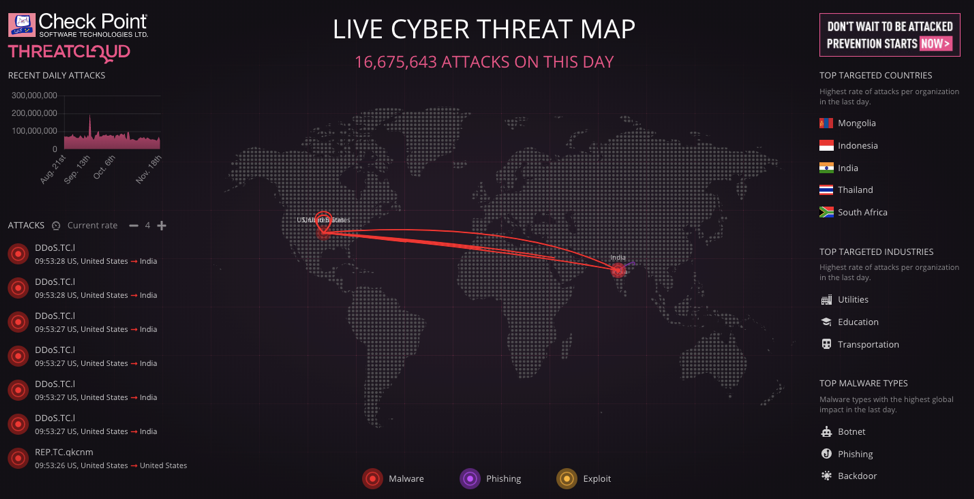 Check Point Software's ThreatCloud map displays historical data (refreshing every day at midnight. PST) with simple but clean visuals.
How It Helps:
View a chart of recent daily attacks.
See recorded attack playbacks.
For every attack, get additional data on top targeted countries and industries.
Identify the most-used malware types.
4. Deteque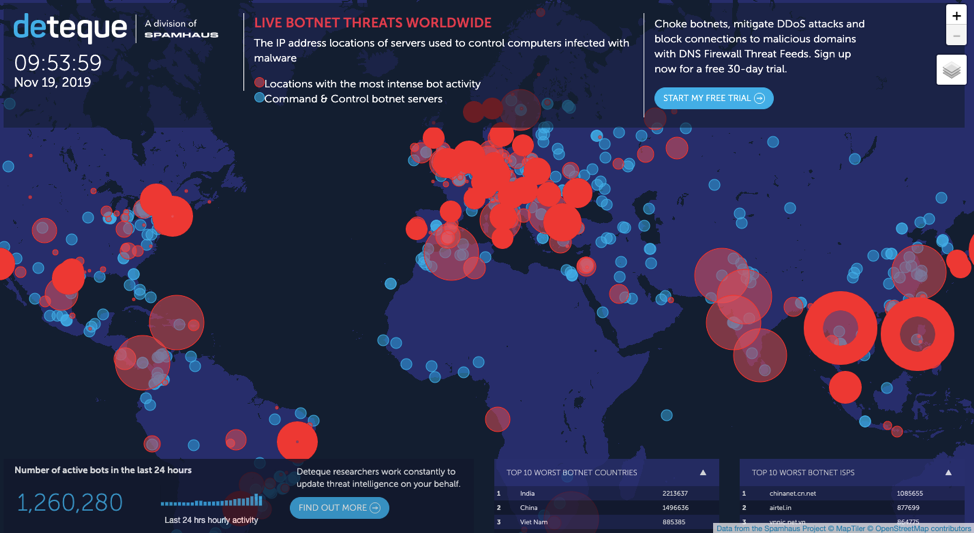 Deteque features a threat map displaying near-live botnet threats.
It focuses on tracking advanced persistent threats (APTs) and targeted cyber attacks. The visuals show the Command & Control botnet server locations as well as the areas with the most intense bot activity,
How It Helps:
Shows the number of active bots in the last 24 hours, with additional information on each bot attack, facilitating the understanding of the intensity of emerging threats.
Identifies the countries and ISPs with the worst botnet infections, alerting organizations to prepare mitigation strategies if they are likely to be affected.
Allows organizations to analyze historical attack data for better threat anticipation.
5. FireEye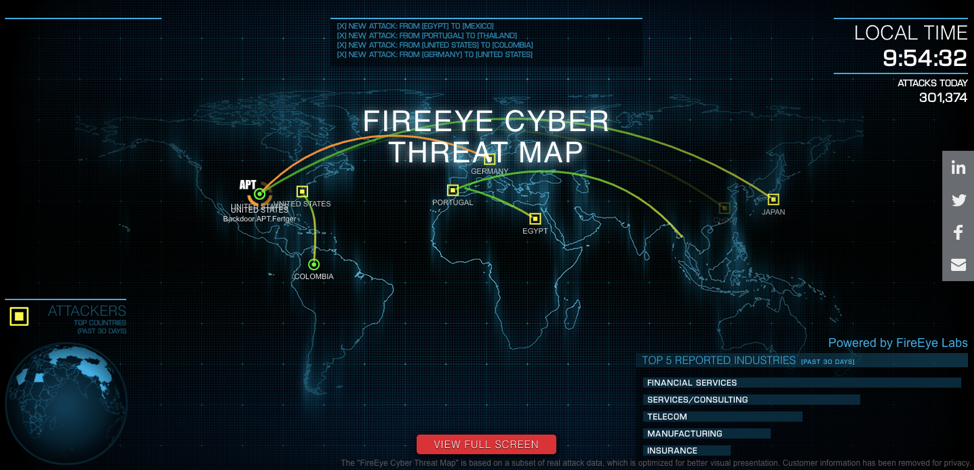 The FireEye threat map gives you a summary of total attacks for the day with useful data such as the top 5 reported industries and top attacker by country.
However, it lacks the details provided by other maps. According to the organization, the map uses "a subset of real attack data" optimized for "better visual presentation."
How It Helps:
Offers an easy-to-read summary of top attacks for each day for a quick overview.
Helps you identify and respond to advanced persistent threats (APTs).
Provides visibility into global attack campaigns, aiding proactive defense strategies.
6. Bitdefender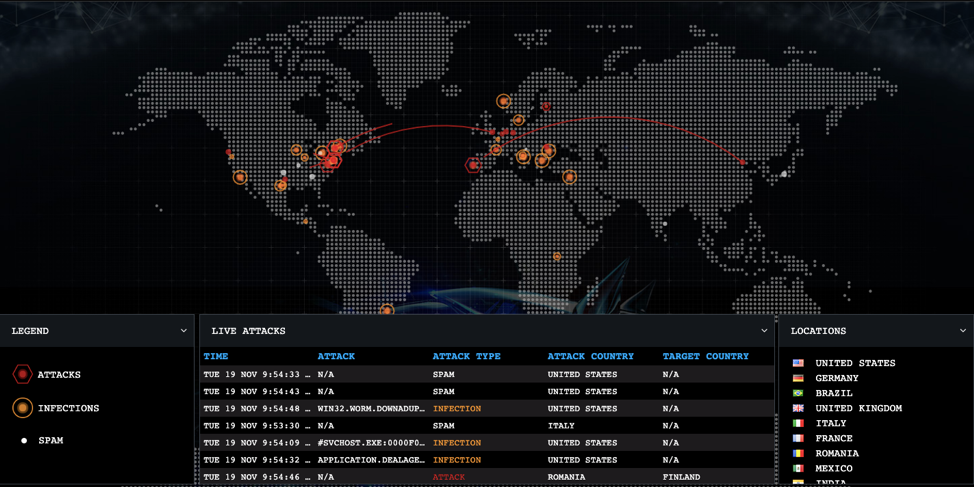 Anti-virus maker Bitdefender has also created a threat map that features infections, attacks, and spam. Bitdefender claims that the threat map displays attacks in real time.
How It Helps:
Track malware outbreaks and their spread.
Understand regional threat variations with data on source and target countries.
Information on the time, category, and type of attacks helps prepare a rapid response to active threats.
7. Arbor Networks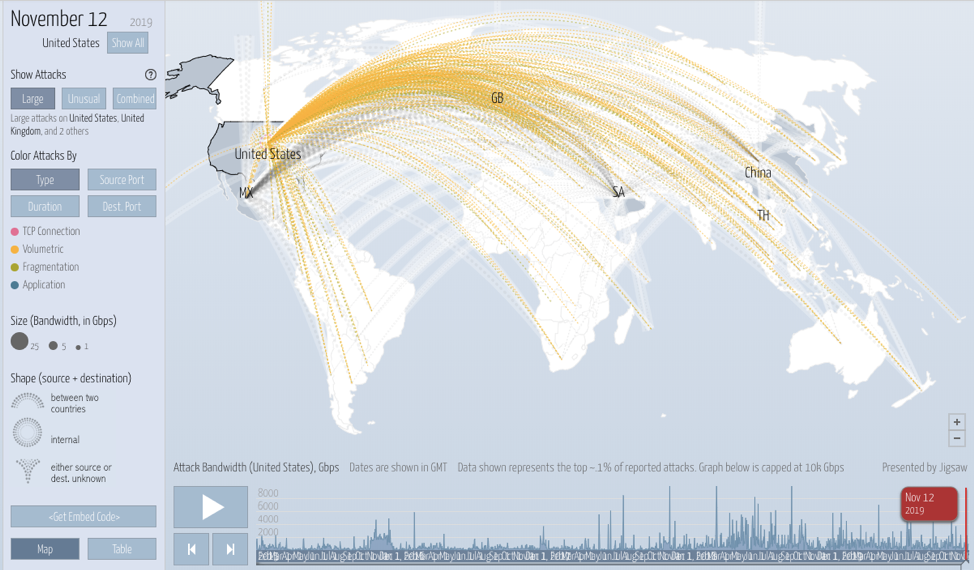 As part of Jigsaw (formerly Google Ideas),Arbor Network created a hybrid threat map with DDoS attacks (Distributed Denial of Service). It is based on Arbor's ATLAS threat intelligence system, with data sourced from over 300 ISP customers and 130 TBPS of global traffic. It offers a wealth of additional information and statistics.
How It Helps:
Detects and mitigates

DDoS attacks.
Real-time insights into attack traffic help understand the scale, target industries, and geographic origins of the attack.
Supports implementation of effective DDoS protection measures.
8. Akamai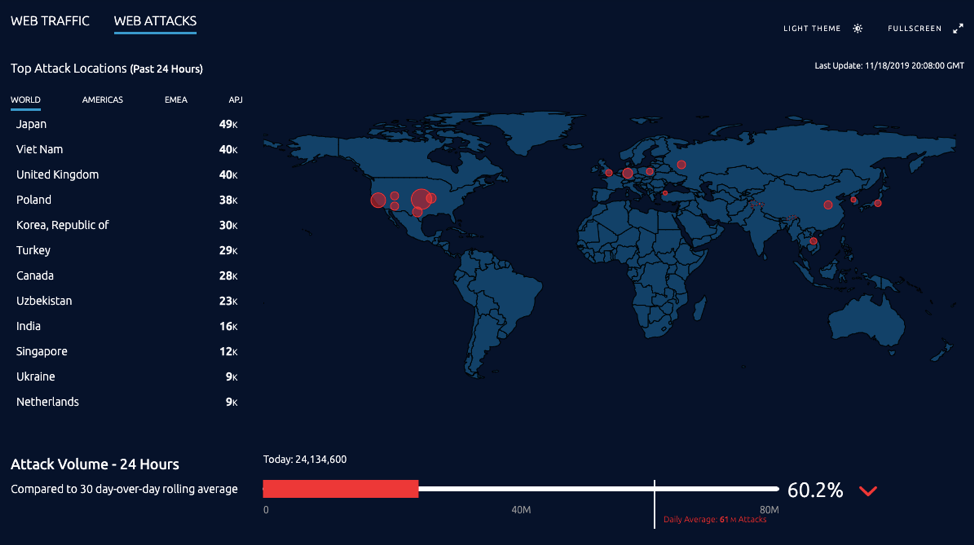 Akamai's Real-Time Web Monitor isn't technically a threat map, but we've included it as it displays valuable data you can use for threat intelligence.
How It Helps:
Get real-time insights into various types of web attacks, such as SQL injections and cross-site scripting.
Identify countries with the most cyber attacks, web traffic, and cities with the slowest web connections.
Establish the relationship between attack origins and the targeted regions.
Enables proactive protection of web assets by identifying ongoing attacks.
The Role of Cyber Threat Maps in the Security Landscape
Undoubtedly, threat maps can unveil a wealth of information to bolster your cybersecurity defenses.
However, there are a few limitations to threat maps that you must remember:
Many of these maps may claim that they show data in real time, but in reality, most show a playback of records of previous attacks.
They show anonymized data without any insights into the identity of the attackers or the victims.
Threat actors tend to forge their real locations, meaning that these are often displayed incorrectly on attack maps, and their source may be incorrect.

Ultimately, live cyber attack maps are to be viewed as add-on tools in addition to the strategic use of threat intelligence measures and robust cybersecurity tools.
The information from threat maps alone does not help mitigate attacks—but it may help you develop a comprehensive cybersecurity strategy to detect and mitigate threats and improve your organization's security posture.
RedLegg: Leveraging Cyber Threat Maps for Enhanced Security
At RedLegg, we have a hands-on approach to security services. If you'd like to discuss how to leverage these cyber threat map tools to improve your security posture, you can reach out to our cybersecurity experts. We're always on hand to help!
And before we go, remember that RedLegg is your go-to partner for all things cybersecurity!
Our Threat Intelligence Management Service supplies your security team with valuable threat research and also brings a team of subject matter experts to operationalize that data within your enterprise.
If you'd like to learn more about what is threat intelligence, the different types of threat intelligence, and the technicalities of how to ingest data from threat intelligence feeds, head out to our Resources section and download this guide:
How to Operationalize Your Threat Intelligence
We help you operationalize threat intelligence data from third-party premium threat intel feed or BYOF data (Bring your own feed).
You can download the full service description here.

Get in touch with RedLegg's cybersecurity experts for a personalized discussion.
Or read...