OUR STORY
WHY 'REDLEG'
The term "redleg" (one g) was coined during the American Civil War and referred to the two-inch scarlet stripe that was sewn onto each pant leg of a Field Artillery soldier's uniform.
Artillery soldiers, with a mission to "destroy, defeat, or disrupt the enemy with integrated fires," were considered the elite back then because of the extent of casualties they inflicted on the battlefield. The Field Artillery killed the lion's share of the enemy (about 75%), so they became known collectively as the King of Battle, distinguishing themselves again in both World Wars.
Redlegs were recently deployed as infantry during the Iraq War and the War in Afghanistan.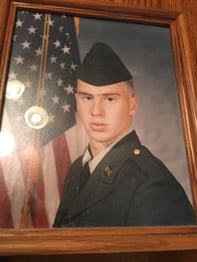 Lynn Weddle founded RedLegg in 2008. He served in the Field Artillery unit of the National Guard for most of his life, and "RedLeg" (one g) was a nickname and a password he often used (not anymore, of course). Growing up in a military family in the small town of Thayer, IL, Lynn spent his summers picking beans and hanging out with friends. He was always interested in finance, good with numbers, and loved adventures and taking risks. With a career in information data protection spanning over 20 years, he originally received his degree in finance from Southern Illinois University.
STRATEGY

RedLegg's strategy has always been focused on data protection, the direction determined by client security needs, desires, and industry trends. The company has shifted its hiring process to find expert leaders in security who have area-specific team leadership skills and who know how to implement their solutions, with the full support of RedLegg management behind them.
THE FUTURE
To see their initial vision become reality, the partners have always depended on their work ethic, open-mindedness, consistency, adaptability, amazing customers, and phenomenal co-workers.
Our mission is to improve every clients' security posture by providing superior security services.
Our vision is to provide a balanced and holistic approach to assessing, building, and maintaining our clients' security needs.
As a global partner in cybersecurity, we believe in continually evolving security practices and improving operational security services to provide our clients with an exceptional cybersecurity solution and experience.