SELECT THE RIGHT VENDOR FOR YOUR BUSINESS.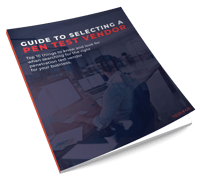 You can't protect your network if you have vulnerabilities you don't know about. Without the right information about your security posture, your business could face:

Costly data breaches
Serious damage to its reputation
Loss of productivity while the breach is addressed
Penetration testing, when it's done the right way, uses both technical tools and manual methods to uncover weaknesses that high-level attackers will exploit. Armed with the knowledge revealed, you'll be better able to protect your network from disastrous security breaches.
But not all penetration testing vendors are created equal. Choosing the right one for your business is crucial.
Your eBook outlines the 10 steps you should take to select a penetration testing vendor that's best for your business.