Anomali is hosting a virtual cyber threat intelligence briefing with Flashpoint and RedLegg. Industry thought-leaders will share emerging threats and innovative threat intelligence strategies at Midwest Threat Day.

Date: Friday, June 19, 2020
Time: 3:00PM-5:00PM CT
Presenters will discuss...
Building effective cyber threat intelligence (CTI) programs
Credit card fraud and emerging tactics, techniques, and procedures (TTPs)
Common methods for gathering your own threat intelligence
After the last presentation concludes, we'll transition to a virtual happy hour and trivia session.
Hear from threat intelligence experts and head into your weekend with a fun round of trivia.
More on JD's talk, "Gathering Threat Intelligence":
"Quality intelligence means verified data and diversified sources. We'll start by providing a baseline, defining threat intelligence, and then covering high-level, common methods for gathering your own threat intel, but be ready to dive into the moving parts and infrastructure required for each. Walk away with the knowledge you need to get started."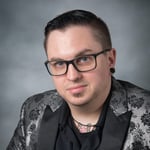 JD Bacon, Manager of Threat and Incident Research. From his Army career to his years of experience in cybersecurity, JD has dedicated his career to protecting and securing the vulnerable. Creator of RedLegg's Threat Intelligence Program, JD is passionate about innovating new technologies to help monitor, respond to, and avoid cyber threats. He particularly enjoys performing original threat intelligence research and catching the bad guys after an incident. When he's not coding or writing playbooks, you can find him hosting a local music festival.